Lessons
Interested in learning to play the Scottish Highland Bagpipes or Scottish-style drumming?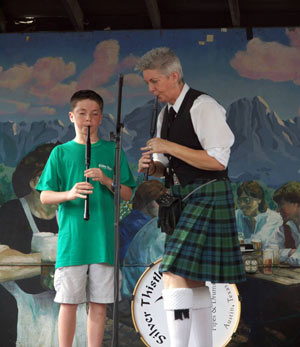 Whether you are a seasoned musician or a novice, Silver Thistle offers small group piping and drumming lessons to musicians and future musicians of all ages. You can choose to learn the Highland bagpipe, snare, tenor drum or bass drum.
Beginner lessons for levels 1-4 are $135 per four-month interval. There is no charge for experienced players who are ready to learn competition sets and compete with the band. Beginner students are evaluated at the end of each trimester to determine if they are ready to advance to the next level. The trimesters begin on the first Monday of January, May, and September, barring holidays.
Please contact us for the locations and times of group lessons. 
Private lessons are also available.
Pay your tuition online ($135):