2019 Austin Piping and Drumming Competition
On February 13, 2019 By
administrator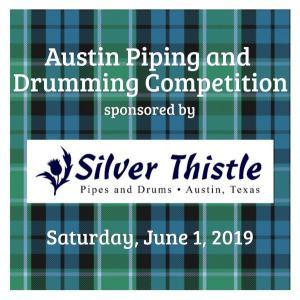 Hello, pipers and drummers. Registration is closed for the 12th annual Austin Piping and Drumming Competition!
Entry must be postmarked by 19 May 2019, or submitted online by 21 May 2019.
Saturday, June 1, 2019
8:30 am start time
Location: Manchaca United Methodist Church
                  1011 FM 1626
                  Austin, Texas 78652
12th Annual EUSPBA Sanctioned Piping Competition
Sanctioned Snare Competition
Unsanctioned Tenor/Bass.
Judges: Piping:Andrew Carlisle and June Hanley; Drumming: Ed Best
Entry fee for all events in grade: $40 (single events: $20)
For more information, please call, text or email Lori Waters, 210.363.7645 - lswaters@juno.com