Up, Up and Away - Another Raffle Update!
On June 14, 2019 By
administrator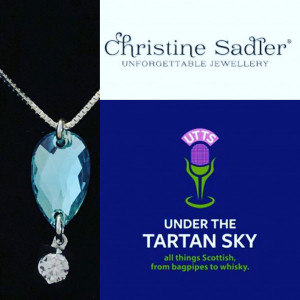 We had the privilege of connecting with Glen Moyer today, producer of Under The Tartan Sky, an excellent podcast series of all things Scottish. He has graciously donated a gorgeous pendant toward our raffle and to support our fundraising efforts as we travel abroad to Scotland this summer! This newly added raffle item is hand-crafted of a blue jewel stone and set in sterling silver on a silver chain, made by Christine Sadler with Unforgettable Jewelry of Ayr, Scotland! Interestingly, Christine designed this piece to model a hot air balloon, in honor of one of Glen's passionate hobbies (besides Scotland!) being a hot air balloon pilot! We love that this piece, like all of Christine's jewelry, tells a meaningful story along side its aesthetic qualities! Funny enough, this is quite like pipe tunes and piobaireachd in particular does. That is, listening to beautiful music that tells an ancient story derived from specific events in Scottish history. 
SO - be there July 6 @ABGB @ 530 p.m. to enter to win this gorgeous piece!
Also, please check out both Glen's podcast Web site here: http://www.underthetartansky.scot/new-page AND Christine's endlessly creative, unforgettable jewelry here: https://www.christinesadler.com/.