Post Scotland 2011
On September 12, 2011 By
administrator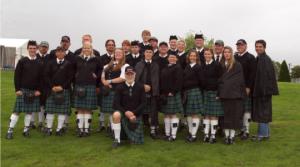 Silver Thistle returned to Scotland to compete at the 2011 World Pipe Band Championship. Band members spent two weeks in Glasgow with daily rehearsals to acclimate our pipes and ourselves to the colder weather.
On August 6th we traveled to North Berwick to compete in Grade 3 Medley and we were able to challenge up with a Grade 2 March/Strathspey/Reel. The following day the band went to Bridge of Allan in Stirling for another warm-up competition, again with our medley in Grade 3 and M/S/R in Grade 2. We used the comments from the judges to guide our practices the following week.
On Saturday, August 13 the twenty-six members of our band went across town to Glasgow Green. There we were among thousands of pipers and drummers from all over the world hoping to show what we've been working so hard to accomplish. Silver Thistle competed in Grade 3B against 35 other bands, divided into two heats. The top six bands from each heat went on to play for the win; unfortunately, we had some errors in our playing that kept us out of the running for the big prize.
The experience was unforgettable, and we sincerely thank all our supporters who helped us both financially and with encouragement. We're looking forward to making another run in 2014.