STPD fans, join us for our weekend practices!
On June 3, 2019 By
administrator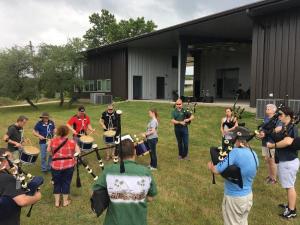 For the last several months we have been working hard perfecting our competition sets for The World Pipe Band Championships on Glasgow Green in Scotland in August.
We welcome you to come out to our next practice (it's free!), Sunday, June 30 and enjoy the music (and the process!). We love spectators to help us "put the pressure on" and help get us ready. You can listen and find us at Bartholomew Park in East Austin anytime from 9a-12p.
We'll likely be focused during practice, but afterward, come over and introduce yourselves! Any video or pictures posted to social media, please tag us and use the hashtag #SilverThistleScotland2019!